15th December 2008
Now this is what a Film Festival really brings to fans of movies. A day that was worth more than 360 minutes of great movie-watching. It helped that a big chunk of that was a one-two knockout of a biopic.
Vacation
(Kyuka)
Hajime Kadoi | Japan | 2008
115 mins
In Japan, a prison warden volunteers for "support duty" in a rare death-sentence execution inorder to earn a few extra days off, so he may get married. In a minimalist directorial style that confirms with my favourites of past festivals (China's
Peacock
from DIFF-2 & Argentina's
El Custudio
from DIFF-3),
Kyuka
delivers the most serene and aesthetically pleasing experience of this year's festival yet. With few dialogues, limited camera movements and completely devoid of melodrama, the film settles down to a level of captivating simplicity. Minutes pass by without any sound or action on screen, yet convey so much. And true to Japanese culture, the characters limit their expressions and emotions to a bare minimum. Sprinkled with light humour throughout, it eventually becomes a case study about the lead character silently dealing with the experiences of death and life at the same time.
Che
Steven Soderbergh | U.S.A. | 2008
262 mins
Che Guevara. The man behind Fidel Castro who lead the succesful revolutionary war in Cuba. The man who wrote *the* handbook on guerrilla warfare (called "Guerrilla Warfare"). The man who travelled the world over to help freedom-fighters. The face that is the world's most merchandised photograph, 40 years after his death. A biopic of Che Guevara is nothing less than a herculean task. An honest attempt at it alone is applaudable. But with a 4hr22min epical biopic that chronicles the two most important battles of his life (his rise and his downfall),
Steven Soderbergh
's
Che
becomes not just a great film, but a tour de force in film-making.
Benico Del Toro
delivers the performance of a lifetime as the Revolutionary in a casting choice that touches perfection.
The first part of
Che
,
Argentine
, depicts the battle of Santa Clara in Cuba along with intercut scenes of his address at the UN headquarters in New York as well as his early youth days from when he first met Fidel Castro. The less accomplished of the two parts, the focus on the Cuban revolution and black & white New York scenes do come across as self-aware, but by the end of
Argentine
- the actual battles in Santa Clara - the movie has risen to a level that sets it apart for greatness.
The greatness though, is achieved in the second part,
Guerilla
, where Che fights his last battle in Bolivia. This part works on a single time-line: Che fights out his last few months with a bunch of fighters in the jungles of Bolivia while the Bolivian national army (with assistance from the US Army) close in on them. The emotional investment and the achieved victory in
Argentine
only work to make Che's final fight to the end in
Guerilla
that much more sad.
Soderbergh
&
Del Toro
, with
Che
, have created a movie that is worthy of every bit of the legend that Che Guevara is.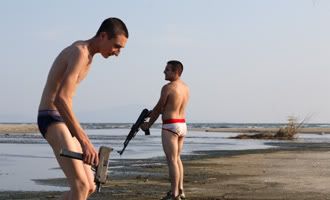 Gomorra

Matteo Garrone | Italy | 2008
135 mins
Gommora
won the Grand Jury prize at the Cannes Film Festival this year. It might have helped that Cannes is in France, which borders Italy. As a non-European and watching the movie in Dubai, the movie made little sense to me apart from depicting a slice of life from a crime-ridden Italian suburb. What really does *not* work in this depiction is the lack of focus on any particular issue or character - the movie seems to chronicle the few days assuming that the audience cares about the issues/events depicted. But without any background, build-up or character arcs, it loses its appeal. If a movie requires its audiences to research its subject matter outside its run-time, and that too before watching it, it then grossly falters on a personal level for the uninitiated (in this case, me). Ignoring the topic and characters, the film-making itself does not achieve any level of outstanding qualities to warrant it a gripping watch. A few shocking violent scenes don't really make the movie great.
Day#5 takes me to Kerala, Turkey, Pakistan & American Iraq. Since I've actually been to Turkey, I have highest hopes from there. Read how I fare tomorrow, tomorrow.