13th December 2008
Day 2 at the DIFF-5 was mostly unkind, but not at all disappointing. Of the four movies I ended up watching, one bowled me over while the other three fell short, miserably. More on them in detail...
The Wrestler
Darren Aronofsky | U.S.A. | 2008
105 mins
Aronofsky
is a director of repute, his name alone warranting any movie a watch. With all the Oscar-buzz surrounding
The Wrestler
and the universally-spoken rebirth of
Mickey Rourke
in a drama role as the movie's title character just makes this movie unmissable.
The Wrestler
manages to efficiently side-step those expectations, and yet deliver a wham to the senses with its intimate look into the life of a way-past-his-prime professional wrestler.
Rourke
embodies (literally) this ailing, lonely man with a heartbreaking honest performance; one that identifies with the loneliness and loss of identity that each one of us go through sometime in our lives.
Aronofsky
, whose past three movies have dealt with the subject of obsession, changes his visual style for
The Wrestler
- there are no crisp-clean shots or striking imagery in this film - yet reaffirms his mastery at intimate characterization. The film also features another great soundtrack by
Clint Mansell
, something of an
Aronofsky
's trademark now. Easily the best movie of the Festival yet, featuring one of the best performances of the year.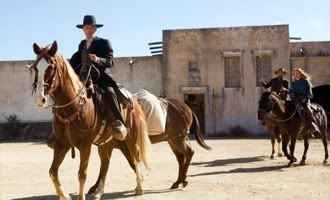 Appaloosa
Ed Harris | U.S.A. | 2008
114 mins
Appaloosa
is a breed of horse, and the possible reason for the naming the movie on the horse could be because of
its unconventional looks
.
Appaloosa
(the movie, since that is the only experience I've had with any Appaloosa), is equally unconventional for the genre it is based on.
Ed Harris
, in only his second directorial venture, again casts himself as the main-lead and conveniently eats up most of the screen time. Unfortunately so, as it undermines an extremely interesting portrayal of
Viggo Mortensen
's Hitch (Harris' right-hand man). At less than two hours, the movie drags on for too long not knowing when to to go where. Although a western set in the "Wild West", the production never authenticates. Other weak characters do not help much:
Jeremy Irons
' far-reaching outlaw Braggs (
Ed Harris
forgot what to do with him) and the annoying
Renée Zellweger
's free-associating "Mrs" French (an eccentric character hopelessly miscast). A big disappointment, especially after watching its two leading men spark the screen in their last outing together.
Salamandra
Pablo Agüero | Argentina | 2008
91 mins
I had seen one Argentinian movie before
Salamandra
, the excellent
El Custudio
- a movie I still regard as one of the finest selections by DIFF across the years. Unfortunately, my reason for selecting
Salamandra
falls flat on its face 20 minutes into it. There is not much conventional about the movie, but this movie about the transition of a mother-son duo from settled to hippies has nothing going for it. Even at 91 minutes, and some alarming (read shocking) visuals, it stretches the patience of its audiences to earn the notorious title for most walk-outs at DIFF (for the movies I've attended). Just stay away.
Heaven on Earth
Deepa Mehta | Canada | 2008
106 mins
Deepa Mehta
is a director I am not convinced of. Her Canadian base has given her a liberal, western outlook on the desi issues/myths that liberal westerners are not usually aware of. And therefore, her movies become polarizing depending on how much you accept this viewpoint.
Heaven on Earth
deals with the issue of domestic violence in emigrants. A noble subject, but the inclusion of melodramatic elements (without its partner-in-crime, song & dance numbers) and unconvincing, forced stylization renders the movie ineffective.
Preity Zinta
is too much of a pretty face - glorified & angelic - to bring the authenticity required in apparently "realistic" movies as this.
Day#3 (Sunday) is going to be marathon mixed-bag of five movies. Do not expect anything profound, unless I make discoveries in the unknown and the un-celeberated.