12th December 2008
For many of us who were not a part of the elite few attending the opening Gala at this year's Dubai International Film Festival (DIFF), the festivities started on 12th December, a glorious Friday for films galore. And the start of the festival brings with it the start of a week-long odyssey of movies, mayhem, soap. As I embark on this odyssey, look forward to a daily report on what I caught, what I loved and what I wish I had missed.
Day 1 of a Film Festival is like the opening moments of a football match - there's a lot of excitement and anticipation, yet not much is expected. Expect the *best* movies to follow on subsequent days, while the current lot serves to whet the appetite and warm up the senses. Of the four movies I ended up watching today, none were spectacularly good, but neither were any a waste. Exactly as I expected the first day to be (but I did hope for it to be better!). On to the movies then...
Love, and Other Crimes (Ljubav I Drugi Zlocini)
Stefan Arsenijevic | Serbia | 2008
105 mins
A Serbian movie about one fateful day in the lives of a neighborhood kingpin and the people surrounding him. At a short run-time of 105 minutes, the movie only really succeeds in its third act. And even so, it leaves too many characters unexplored and too many promising sub-plots hanging. Yet, the closure for the plot-line followed is fascinating and, more-so, redeeming of the investment in its main protagonists. Worthy of a watch, but at no high opportunity cost.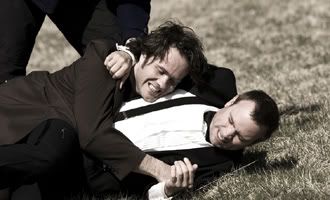 Country Wedding (Sveitabruokaup)
Valdís Óskarsdóttir | Iceland | 2008
95 mins
Country Wedding
is a light-hearted take on two dysfunctional families getting together at a wedlock. It starts in the morning with the groom & bride's families hurrying to get on the road on the way to a country-side church; and the introduction of a menagerie of affluent characters brings with it improvised humour that is easy to chuckle at but never really makes one laugh out loud. The director reputedly did not have a detailed script. She practiced with the actors on their pasts rather the scenes of the movie to get natural and spontaneous performances. This brings an authenticity to the characters identifiable by anyone familiar with large families. The run-time is intelligently kept short, which works well in its favour. Unfortunately, it had too many dialogues (and therefore sub-titles) to please audience foreign to the language.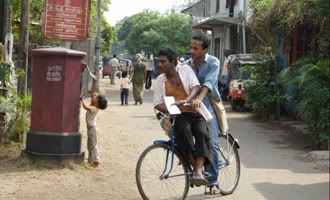 Machan
Uberto Pasolini | Sri Lanka | 2008
109 mins
Machan
is one quirky movie. It has a great ensemble cast that mostly make up a subterfuge Handball team in Sri Lanka. The so-called team members, on the pretext of touring Germany for a tournament, intend to illegally migrate to Europe, and they succeed! Based on the true events, the movie builds itself from the low-life of a bunch of Sri Lankan guys - their under-privileged status and hopeless situations - to the actual tour and final escape. Through all this, you see some wonderful performances, especially by "
Stan
", an actor doing just his second movie in seven years. The film also has many unstated scenes of humour and amusement. The attached image shows a little boy trying to post a letter: the movie focuses on him for a moment to show his helplessness, but then leaves him to continue following our "heroes" on the bicycle. From the response it got when screened in one of the larger cinemas, it is clearly one for the audience.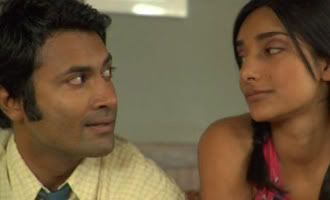 Kissing Cousins
Amyn Kaderali | U.S.A. | 2008
98 mins
At the cost of a better movie, and enticed by the ethnicity of its plot and characters, I decided to watch
Kissing Cousins
. It cost me quite a bit. It is not essentially a bad movie, just too mediocre to warrant a recommendation or a detailed analysis. And especially not one to prioritize. The humour does evoke laughter but, after the wonderful
Machan
, came across as forced. The actors do not carry a performance or visual appeal to hold the attention span riveted, and hence falls short. This debut feature by its director is not all bad though - it succeeds on becoming in one of the few mix-race USA-based movies that does not bucket the characters as non-white Americans. It's not a good enough reason to spend money on it though.
Day#2 (Saturday) is for another four movies, chiefly among them is a movie that could knock-out all competition at the upcoming Oscars. Look forward to the report tomorrow.